Stanche Mani and Réparation, 2019

Which kind of reflection can an artist bring on stage about the current social and political environment?
Stanche Mani is a feminist piece about this artistic engagement. Lisa Da Boit dances upon the ashes of Ferocia, her last enraged solo. She now shares the stage with Sophie de Beer that replaces Farah Chammah. They search together, with the complicity of Natalia Blanch as a witness of silence and persistence, for another sense of this broken world, deep in sorrow. Stanche Mani is a poem that keeps together the contradictions of reality, while offering a ray of hope, a light at the edge of darkness.
Teaser Stanche Mani: https://vimeo.com/381648327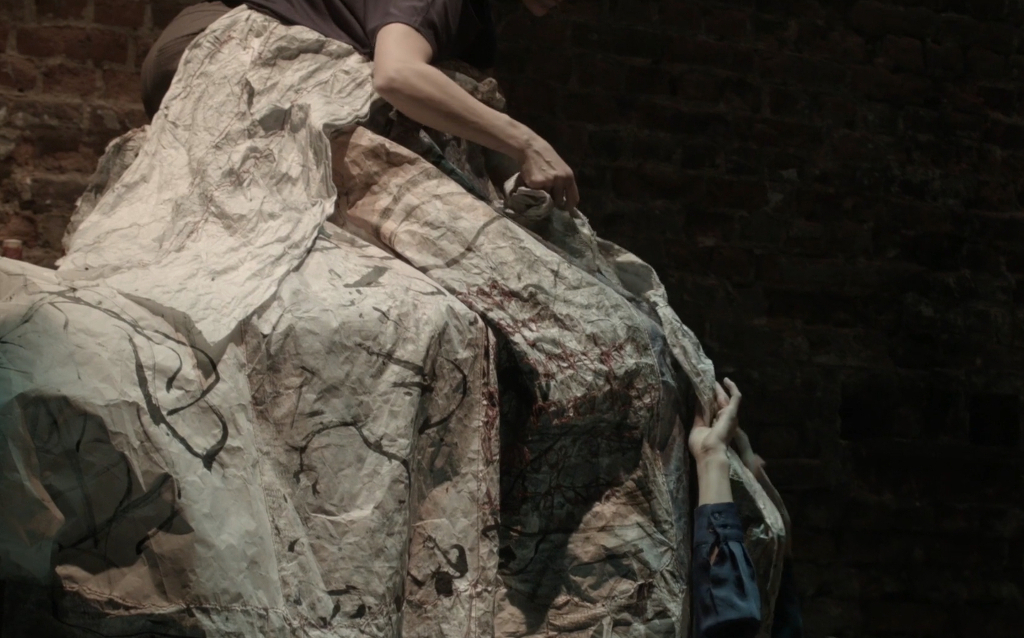 Concept & choreography: Lisa Da Boit / Text and voice: Sophie de Beer / Interpretation:  Lisa Da Boit and Sophie de Beer / Visual universe: Natalia Blanch / Live music: Sofiane Remadna / Lights: Yoris Van den Houte / Direction assistant: Rudi Galindo / Promotion: Frank Barat, Anne Golaz. A creation of Giolisu, in coproduction with Théâtre de la Vie. With the support of Théâtre Marni, Grand Studio, la Roseraie, Centre Garcia Lorca & Espace Magh. PREMIERE - 12 > 16.11.2019 at 20:00 - Théâtre de la Vie, Brussels
Réparation 
Réparation is a sewn drawing I made for the performance Stanche Mani (a creation of the Giolisu danse company).The energy and fluidity of the dance movement was captured in India ink on rolls of rice paper. The dancer damaged and torn the paper. They had to be repaired, stitched up, to create an "open" structure, constantly patched up.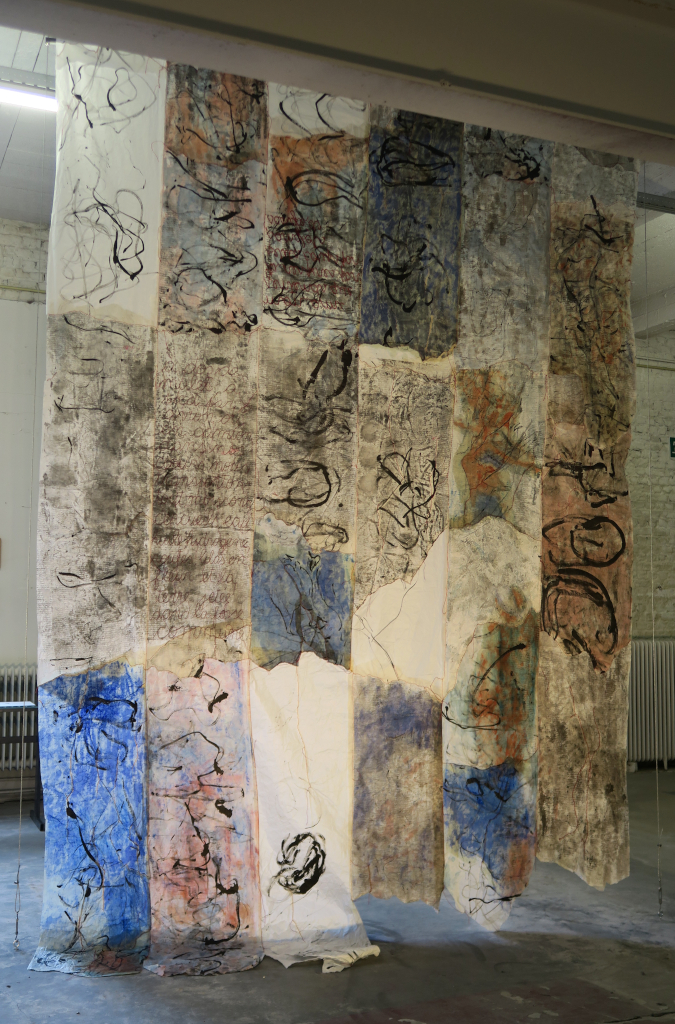 Réparation, Indian ink and oil painting on rice paper, hand sewn, 350 x 300 cm, 2019.
View of the installation at Firm Artlab, 2022.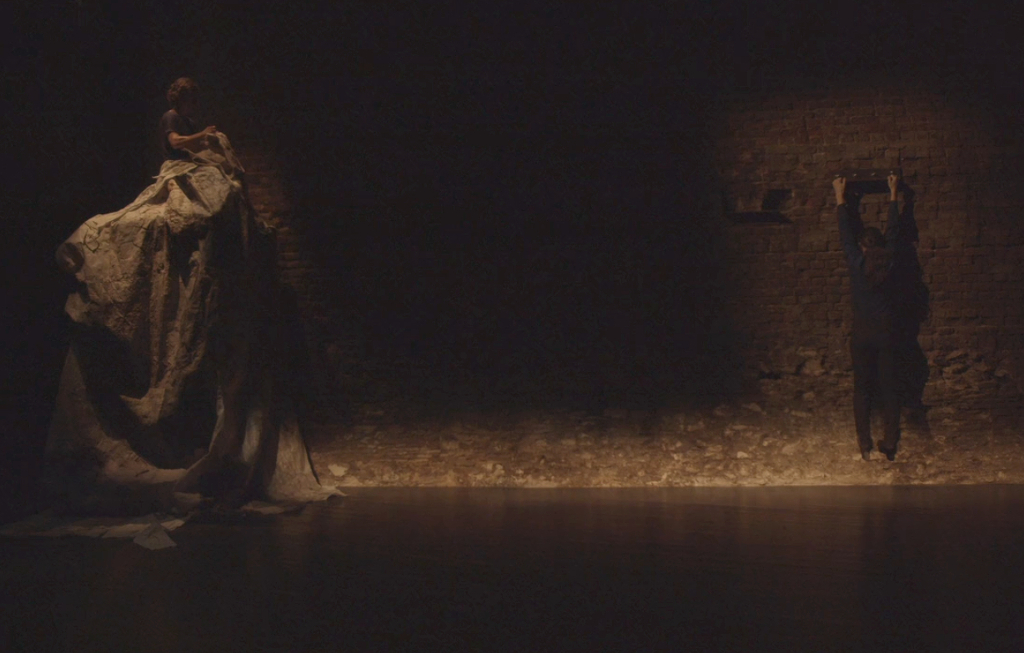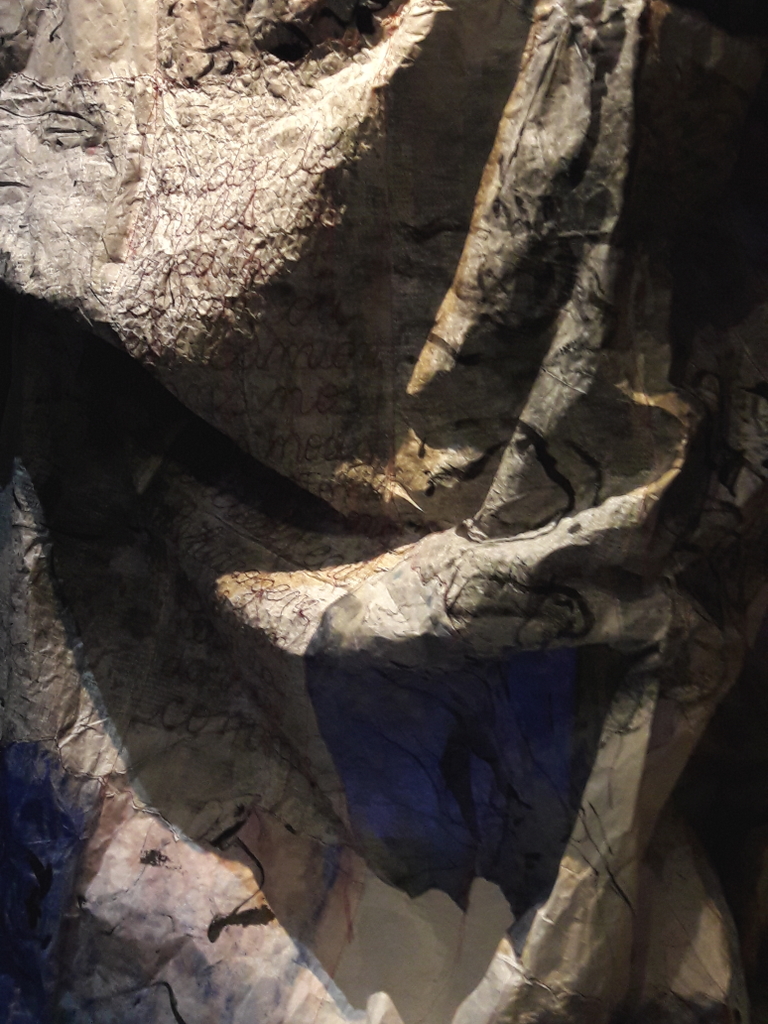 The drawing and performance of Stanche Mani
In Stanche Mani's work and research process, I specially used rice paper rolls and Indian ink to capture the energy and fluidity of the dance movements in drawings. These rolls of drawn paper were then used to dance, which damaged and tore them apart. I set out to repair the paper by stitching it up and create an "unlimited" structure. On some of the pieces I embroidered extracts from poems. For example from the poem Separation, from the book Pages of Wounds, by John Berger I repeated:
"With mules, on foot / by airliners and lorries/ in our hearts / we carry everything, / harvests, coffins, water, / oil, hydrogen, roads, / flowering lilac and / the earth thrown into the mass grave ".
The inspiration for the structure of the sewn drawing comes from the "Kesa", the robe that wear Zen Buddhist monks and nuns. In the past, the kesa was made up of rags of different origins, dyed the same color. The structure of the kesa has the shape of a rice field, and it is assembled in a very precise way.
The swen drawing for Stanche Mani (which measures approx. 3 x 5 meters) takes up the idea of using pieces of paper that has already been drawn, painted and handled.
Stanche Mani talks about the deep tensions that run through us as individuals and as a society, how to reconcile being in action and the need to meditate; how to have various experiences of times -of the time that is unfolding and of the instant-; how to integrate silence into our functioning in life…
Drawing and dancing work like a mirror, a game of differed reflections. And when there are no more bodies in space, the drawing remains as a testimony to their quest to resolve tensions, to create links.